Buick Offers Great Value in Used Luxury Vehicles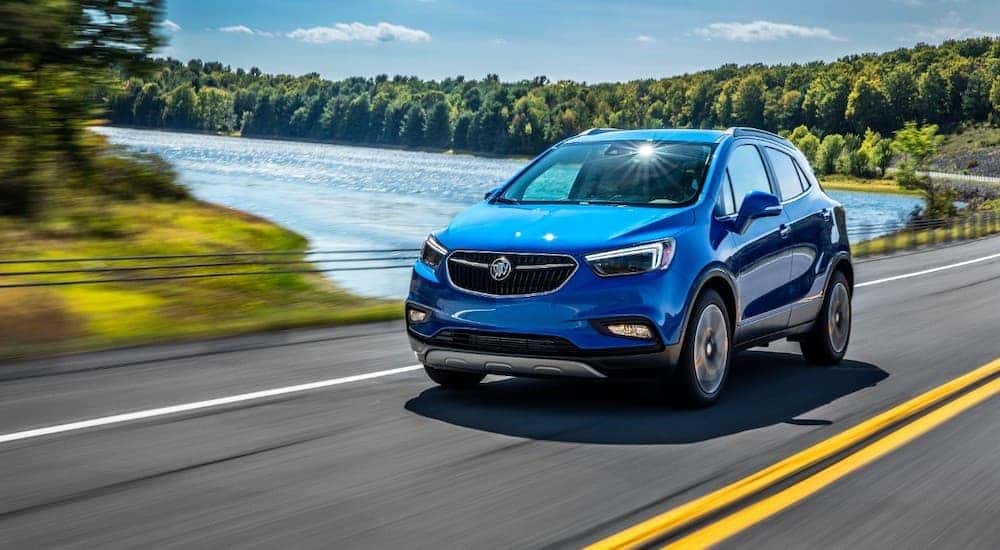 All car manufacturers will redirect focus or discontinue models from time to time. This is all part of keeping up with the changing tastes and demands of the car-buying public. For some very savvy buyers, there is an understanding that such discontinued cars, trucks, and SUVs are still great vehicles, and the decision to stop building them had more to do with popularity than the intrinsic value of the vehicle. These buyers know that they can get a great deal on a used vehicle, particularly if it is one where production was discontinued or if a new generation of the model has recently made its debut. If you stop into our Lexington used Buick dealership, you are going to find a great deal on a used Buick model, providing you with some serious bang for your buck.
Buick recently changed its corporate focus to concentrate solely on developing, manufacturing, and marketing luxury SUVs. The goal is to make Buick the premier domestic luxury SUV brand. However, this decision presents you with a great opportunity to get a used Buick car or SUV at an amazing price. That is because, at Dan Cummins Chevrolet Buick of Georgetown, we have one of the largest inventories of used Buick cars and SUVs in the area, giving you the ability to find one that fits your lifestyle and budget perfectly.
The Current Buick Lineup
Starting in 2021, Buick reduced its lineup to three principal vehicles, all of which are SUVs. The Buick Encore is a subcompact SUV, the Buick Envision is a compact SUV, and the Buick Enclave is a midsize SUV, so you have all the key sizes covered. In addition, Buick offers the Encore GX, which is slightly larger than the standard Encore. These SUVs can be found with either front-wheel drive or all-wheel drive and have room for five or more passengers. All of these models have been out for a few years now and are available on the used SUV market,
If you look at the Encore or Encore GX, you will have a choice of three great engines, as well as several different trim levels. The base model Encore has a 1.4-liter turbocharged 4-cylinder gas engine, while the Encore GX and Encore GX ST have smaller but more powerful engines: an EcoTec 1.2-liter Turbo and an EcoTec 1.3-liter Turbo, respectively. Each model of the Encore offers great fuel economy as well as plenty of luxury features, including the Buick Infotainment system on an 8-inch color touchscreen.
You may be able to find a great deal on a used Buick Envision from 2020 or earlier. That is because Buick launched a fully redesigned Envision for the 2021 model year. Whenever this happens, models from the prior generation will often drop in price. With the 2020 Envision, you get a choice of either a 2.0-liter turbocharged 4-cylinder engine or a 2.5-liter 4-cylinder gas engine. The Turbo will give you generally better acceleration, while the 2.5-liter engine provides better gas mileage. The Envision is incredibly roomy for a compact SUV. For example, it has plenty of trunk space, a full 26.9 cubic feet that can be expanded to 57.3 cubic feet by simply folding down the rear row of seats.
Sometimes you need more passenger space, and this is where a used Buick Enclave comes into play. The Enclave has three rows of seats with plenty of room for up to seven passengers. If you are looking at a 2018 or later used Enclave, you will get an exceptional 3.6-liter V-6 gas engine paired with a 9-speed automatic transmission. This can produce up to 310 horsepower and 266 pound-feet of torque while delivering a solid fuel economy of 18 miles per gallon in city driving and 26 miles per gallon on the highway. The Enclave also offers plenty of cargo space – up to 97.6 cubic feet when both the second and third rows of seats are folded down.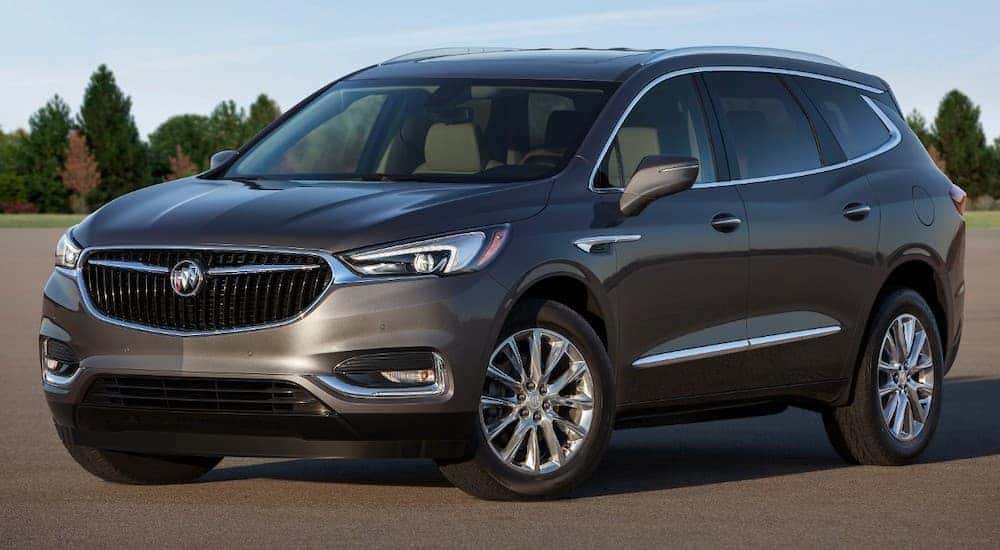 Five Great Discontinued Buick Models
As we pointed out earlier, Buick recently decided to focus exclusively on luxury SUVs. As a result, it began to phase out certain models beginning in 2019. The first two to go were the LaCrosse and the Cascada. However, you can still find great models of both cars for sale in the used market.
The Buick LaCrosse is a full-size premium sedan with plenty of luxury features. This includes the Buick Infotainment system with an 8-speaker sound system, 18-inch alloy wheels, LED daytime running lights, and heated side mirrors. Some models even have leather interiors and an 11-speaker Bose premium surround-sound system. The 2019 model, which was the last produced, offered the choice of a very fuel-efficient 2.5-liter I-4 engine with eAssist and a powerful 3.6-liter V-6 engine. The models with the V-6 engine also had the option of all-wheel drive instead of the standard front-wheel drive. Buying a used Buick LaCrosse will give you the ability to get great luxury at an affordable price.
The Buick Cascada is a luxury convertible model that comes equipped with a 1.6-liter Turbo I-4 gas engine. It features many premium items, such as Rear Park Assist, heat-reflective leather upholstery, and heated seats and steering wheel. If you ever wanted a premium luxury convertible but had a serious case of sticker shock, a used Cascada could be the model for you.
The final three models that were cut from the roster in 2020 all were based around the Buick Regal midsize sedan design. The Regal Sportback is the basic model with a standard 2.0-liter turbocharged I-4 gas engine. This model gets great fuel economy while not sacrificing performance. It is also equipped with the Buick Infotainment system with an 8-inch color touchscreen and all the popular features you would expect, such as Bluetooth, Apple CarPlay, and Android Auto. The Regal GS is a sportier version of the Regal with a larger engine and standard all-wheel drive. The 2019 and 2020 Regal GS models come with a 3.6-liter V-6 gas engine.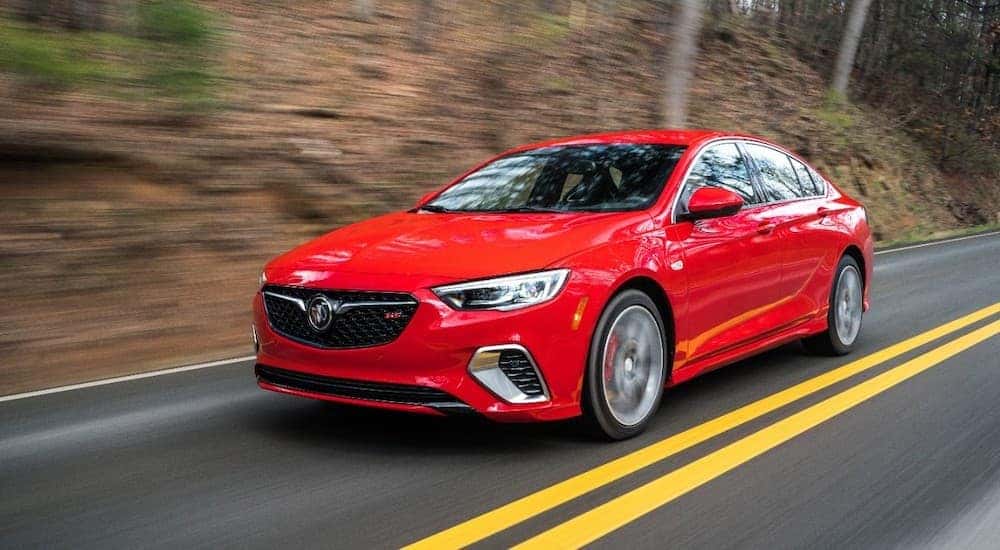 Finally, the Regal TourX is a crossover wagon built on the Regal frame. It features the same 2.0-liter 4-cylinder gas engine but standard all-wheel drive and plenty of trunk space. There are 32.7 cubic feet of space in the Regal TourX's trunk that can be expanded to 73.5 cubic feet with the rear seat folded down. This is a great choice for someone who wants the roominess and versatility of an SUV but is more comfortable driving a sedan.
Buick may not be manufacturing these five great cars, but that doesn't mean you should miss out on them. You are sure to find a used LaCrosse, Cascada, Regal Sportback, Regal GS, or Regal TourX in the trim level and with the options you want on the used car market, giving you the opportunity to get a great car at an even better price.
The Benefits of Buying Used
There is no better deal than the one you will get when you buy a used car. This is especially so when buying a luxury vehicle like a used Buick car or SUV. That is for a number of reasons. First, vehicles will often lose up to half their value in the first few years of ownership due to depreciation. However, this does not mean there is anything wrong with the car. Second, discontinued vehicles like the Buick LaCrosse and Buick Regal TourX, or ones from an earlier generation like a pre-2020 Buick Envision, will see their used prices drop as a result of corporate decisions to come out with a new generation or discontinue a model. Again, this does not have anything to do with the actual value of the car to you. As a result, you can get a great deal on one of these used Buicks. Stop by our dealership today and let us show you why your next vehicle should be a used Buick luxury car or SUV.