Chevy Heavy Duty: Dually Truck Towing Power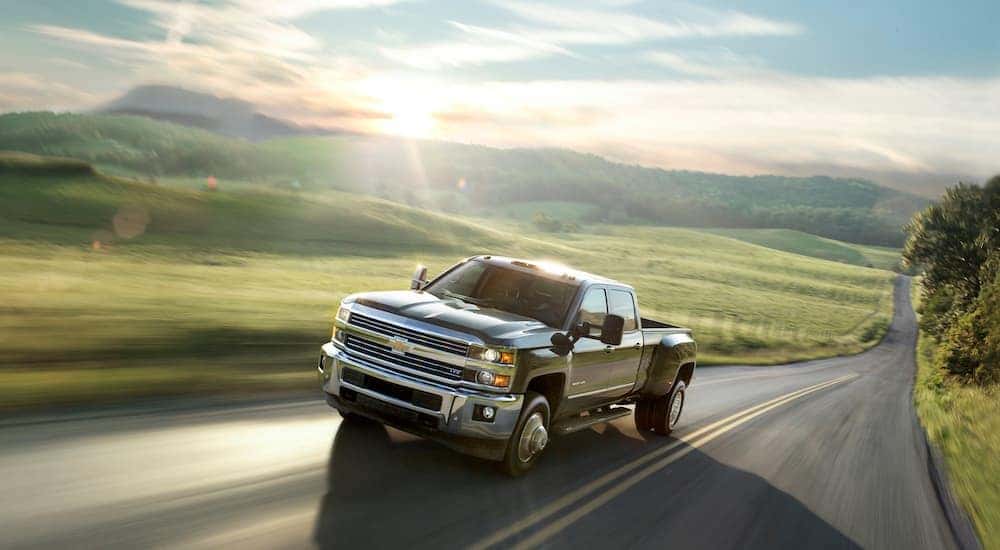 When looking for a tough truck that is capable of taking on even the toughest of jobs, the Chevy heavy-duty trucks, new and used, are among many top tier lists for trucks you should consider. The Chevy 2500 and 3500 HD trucks are favorites for their incredible power, refined styling, modern innovations, and reliable design that ensures drivers that their truck is not only powerful but also durable and ready for the long haul. Even the smallest of these giants can move over 20,000 pounds, and not many buyers will need even that much strength. If you're looking to buy a pre-owned Chevy 3500 HD and need a lot of strength from your heavy-duty truck, you might want to consider a dually.
Commonly, dually trucks are considered much better for towing for their improved traction, wider stance, and powerful, capable engines. The Chevy 3500 HD trucks, even ones from previous years, are strong contenders for reliable heavy duty trucks that come equipped with versatile and advantageous dual rear wheels. Plus, buying a pre-owned dually will help you save big on price while still capitalizing on power.
What Is a Dually Truck?
So what is a dually truck anyway? A dually truck is basically a pickup truck with four wheels on the rear axle. Also known as one-ton pickups, these trucks are designed with the express purpose of moving incredibly heavy stuff. From carrying heavy loads to towing thousands of pounds, the design of the dually trucks grants major bonuses to your towing and trailering capabilities. Aside from looking more like a tank and less like a pickup, there is more to sheer size and presence that come as a bonus to this choice of build.
These double rear wheels intensely boost your towing and trailering potential. The increased surface area of the tires dramatically increases traction, stability, and balance while driving or hauling. With all that extra wheel giving you grip on the terrain and spinning with the power of a huge engine like the 6.6-liter Duramax V8 engine, it is no mystery how a truck like the Chevy 3500 is able to move around 30,000 pounds. In addition to the incredible traction that is possible, the dually trucks have an added feature that may go unnoticed to the untrained eye.
You might notice, when you look at a dually truck, just how wide the back looks with the double-wide wheels. That wider stance is actually an essential part of how these trucks are more suited to heavy towing on a regular basis. Like bracing yourself by widening your stance, the wider rear stance of the back wheels allows the truck to rebalance a large, awkward, and very often heavy trailer. This greater stability is a huge safety feature for the heavy duty trucks as well as a capability feature.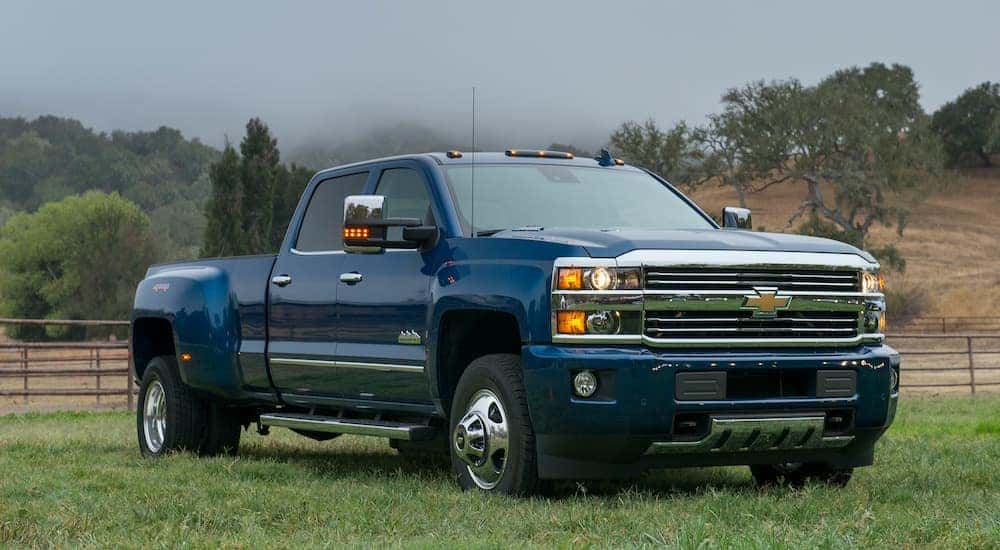 The Dually Design
The whole design is built to support the dual rear wheels in the back. The truck features some heavy-duty springs, shocks, and brakes that help support the practical use of the truck and deeply enhance the ride quality. Big work trucks are not generally prized for their comfortable, quiet, and smooth-riding experiences. However, the Chevy heavy-duty trucks have been considerably well designed to reduce noise from outside the cab and from the engine. The shocks and brakes are responsive, and they are made of quality, long-lasting materials inside and out.
Ideally, these trucks often function as heavy haulers regularly deployed to move close to 7000 pounds. With their versatility and strength, the capability of trucks like the Chevy 3500 from any model year easily matches the needs to move trailers and campers. Transporting of consumer goods to commercial enterprises such as landscaping or construction or even horses and livestock become viable. It is because of this that many buyers of these vehicles are interested in the small business applications of such an investment.
These kinds of powerful professional-grade trucks are intended for heavy-duty work on a regular basis, so they need to be strong but equally versatile to suit specific fields of work. The long and proud history of the Chevy 3500 HD is a good indication that this model is strong enough to handle any job that you might throw at it.
The Chevy Silverado 3500 HD
What about Chevy HD trucks makes them the best choice for the work a dually truck is needed for? Chevy's heavy-duty trucks are beloved for their rugged strength and finely tuned design refined after years of practice. Everything about the features and engineering of the heavy duty lineup of Chevy trucks is pointed at the goal of making it one of the best, most reliable work trucks you can expect.
The Chevy 2500 and 3500 HD trucks have made leaps and bounds in maximum towing and payload, keeping them on the same competitive playing field as Ford and Ram. Of course, these trucks are more expensive out the gate than the non-dually counterparts, but that expense is worth it when you consider how much these models can accomplish. There is a lot of power and impressive tech woven into each one of these massive hauling trucks, and that kind of engineering does not come cheap. It is, therefore, incredibly wise and frugal for those who need to save some money, but also need the kind of power and towing that only a Chevy heavy-duty can do, to consider buying a pre-owned heavy-duty Chevy.
As you go back in model years, you will see differences in particular builds, engine sizes, and capability but what is consistent is the dedicated mission towards ensuring that the Chevy trucks are crafted to suit the needs of a regular towing machine. From the double rear wheels to the available fog lights, extra bumpers and flare, and a touch screen with enough cameras to back up anything with confidence and precision. The comfort of the interior of the Chevy trucks is also a consistent feature that makes many drivers into life-long drivers of the brand. The upholstery and noise reduction in the cabin make it much more comfortable, and with the impressive shocks and suspension, you don't feel a bumpy ride when with an empty bed and rumbling terrain.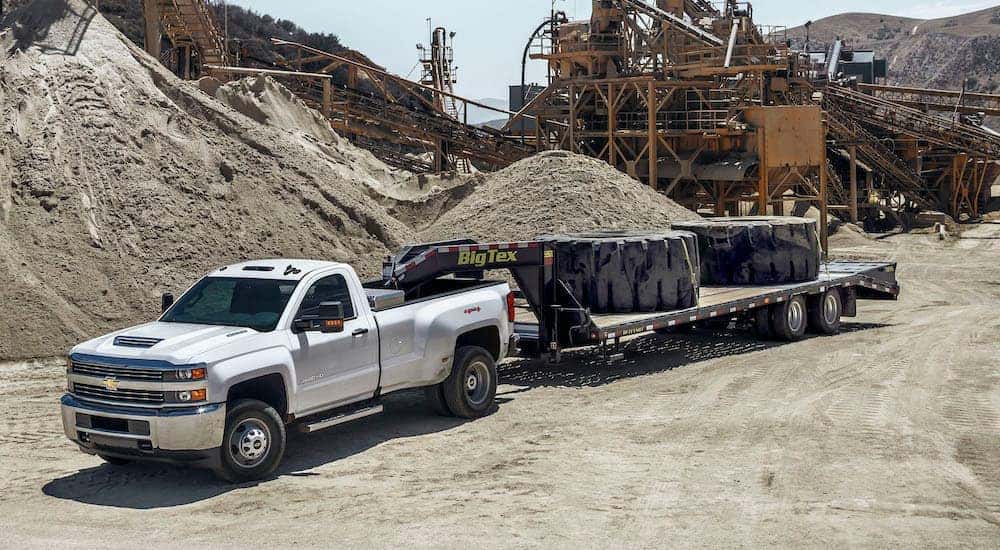 Is a Dually Truck From Chevy for Me?
If you ask anyone who knows anything about trucks, they will tell you that if you don't need the power of a heavy-duty truck, you're wasting your money. That is partially true. Having a truck like the Chevy 2500 and 2500 HD means you are moving an incredibly powerful monster wherever you go. The drivers that need to rely on that strength and durability with unmatched versatility will get the most out of pre-owned vehicles like these heavy-duty dually trucks.
It is hard to sit behind the wheel of one of these trucks and not feel like you're the king of the world. If you need the strength, stability, and reliability of a Chevy and the enhanced capability of a dually truck, then a pre-owned Chevy heavy-duty truck may be your next perfect dream truck. If you need to test drive a dually to be sure this is the truck for your needs, then visit us to see what models we have in stock for you to try. We want to help you find the perfect truck to tackle all of your big jobs.