Pre-Owned Chevy Trucks Staying Strong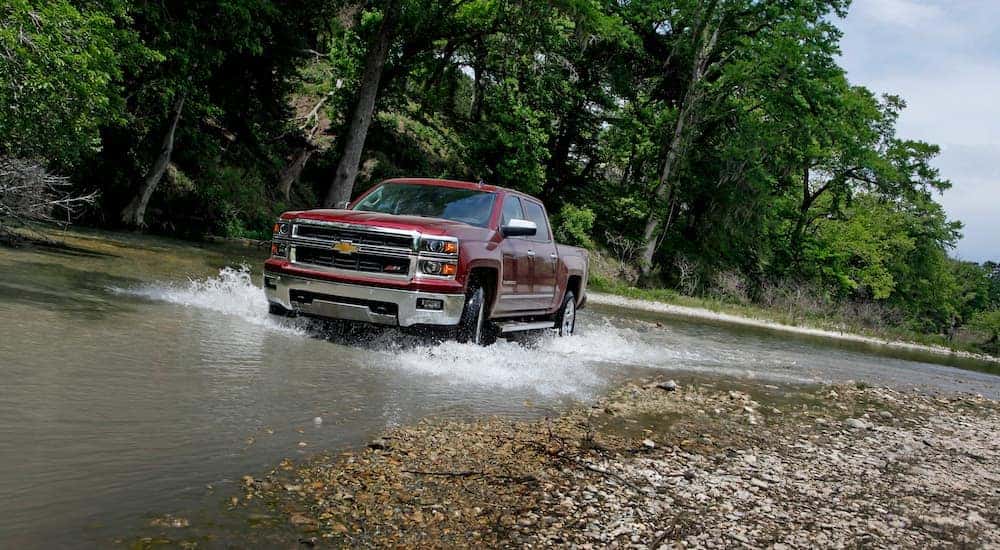 Shopping around for a used truck can be difficult. This isn't because of a lack of viable options, but rather too many to select from. However, if you're looking for an older vehicle that has as much power and durability as newer examples, then you should look no further than a pre-owned Chevy truck. Trucks such as the Silverado 1500 have been around for well over a decade now and have been popular choices every year since their introduction. By no means has it been an easy road for Chevy as other manufacturers have constantly been at its heels with their own exemplary pickup truck lineups. With competition being the end-result of a healthy market, you may be wondering how a Chevy truck compares to pre-owned lineups from other manufacturers such as Toyota. To answer this question, we paired the Chevy Silverado 1500 with the Toyota Tundra to give you a better understanding of how current pre-owned offerings stack up against one another.
The Chevy Silverado 1500 and Toyota Tundra were initially released at the start of the 2000s, albeit the Silverado 1500 is older by a year. Regardless, these two lineups have always been subject to competition because of their status as popular pickup trucks from big-name manufacturers. If you're shopping for a used model of these two lineups, you won't have any shortage of options. However, you will probably be looking at a third-generation Silverado (2014 to 2018) or a refreshed second-generation Tundra (2014 to present). Between these two models, which one is the best performer?
Which Vehicle Performs Better?
Of course, when purchasing a truck, you're going to want the very best you can feasibly acquire. This holds equally true for pre-owned trucks as well. For the Silverado 1500 and Tundra, the general performance between the two is quite similar. However, the Silverado 1500 can ultimately perform better with its available 6.2L V8.
The base engine for the 2015 and later Tundra is a 4.6L V8 that produces 310 hp and 327 lb-ft of torque. Compared to the base engine inside of the Silverado 1500, which is a 4.3L V6 that produces 285 hp and 305 lb-ft of torque, the Tundra's base engine is stronger. Like the Tundra's engine, this V6 comes paired with a 6-speed automatic transmission. However, the base engine in the Silverado 1500 is more fuel-efficient with average EPA-estimated ratings of around 20 MPG combined, compared to the approximately 16 MPG combined of the Tundra.
Depending on the Tundra that you purchase, it may instead come with a larger 5.7L V8. This larger V8 allows the Tundra to produce a much stronger 381 hp and 401 lb-ft of torque. Of course, this comes at a cost, and fuel-efficiency ratings are even lower than the base offering at around 15 MPG combined. While both Toyota engine options are solid designs, they are decidedly dated compared to what Chevy offers and fall short in terms of power and efficiency.
The third-generation Silverado also offers the choice of two different V8 engines. The first of these V8 engines is a 5.3L V8 that produces 355 hp and 383 lb-ft of torque. Not only does this overwhelm the Tundra's base V8 when it comes to power, but it also achieves a respectable fuel-efficiency of around 19 MPG combined. Equipping your Silverado 1500 with this engine alongside the proper trailering packages will ensure a maximum towing capacity of up to 11,000 lbs.
The last available engine for the Silverado 1500 is a 6.2L V8 that produces an impressive 420 hp and 460 lb-ft of torque. A properly equipped example can tow up to 12,500 lbs, meaning this should be your engine of choice if you plan on performing heavier towing tasks with your truck. In contrast, the Tundra tops out at just 10,200 lbs with its top engine, leaving it in the Silverado's dust. Of course, the Chevy 6.2L wins on fuel economy as well at around 17 MPG. If you are looking for the ultimate pre-owned half-ton truck, it is very difficult to beat a third-generation Chevy Silverado 1500 equipped with the 6.2L V8 engine.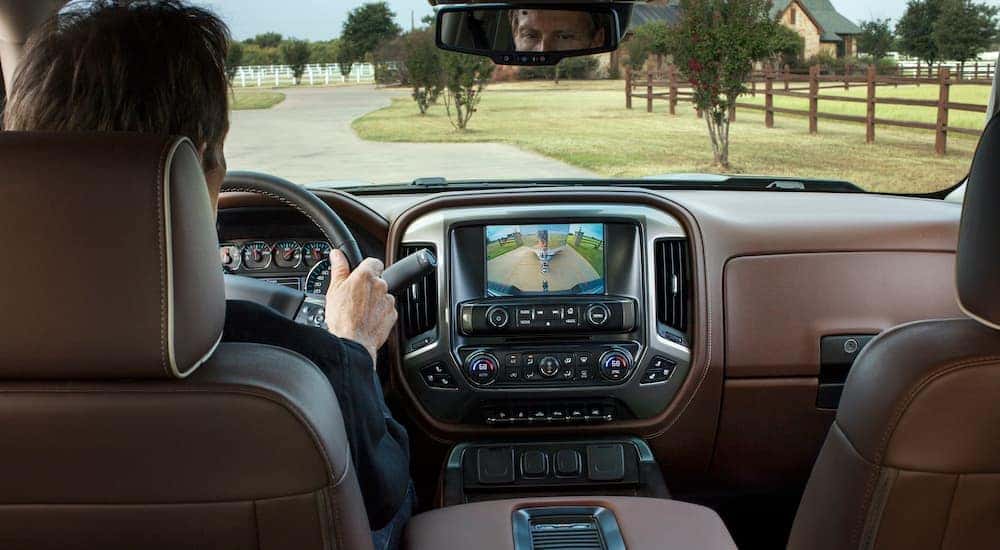 Cargo Space and Interior
While performance is an inevitable selling point of a pickup truck, it's the ones with spacious and comfortable interiors that stand out. The Chevy Silverado and Toyota Tundra both support a maximum seating capacity of six passengers in their four-door crew cab configurations. However, there are also smaller extended cab options if you want a longer bed for more exterior payload space. Both trucks offer a variety of bed lengths to better suit your needs, so just look around the used market to find the perfect configuration for you.
In regards to which truck is a better fit for the passengers on-board, the Silverado 1500 is ultimately the more spacious of the two. In the popular crew cab configuration, the Silverado 1500 will provide 42.8 inches of headroom and 45.3 inches of legroom. Bringing in a CrewMax Tundra, it'll have a smaller amount of space with 39.7 inches of headroom and 42.5 inches of legroom in the front. That means more space and more comfort in a used Silverado 1500 than in a used Toyota Tundra.
Connectivity features will vary considerably depending on the model year and configuration of the used trucks that you are looking at. In their basic configurations, both trucks are rather similar. However, opting for a more feature-rich Silverado 1500 will ultimately grant you more features than the Tundra can offer. For instance, the Silverado has had the option for an 8-inch infotainment screen since the introduction of the third generation in 2014 – an option that the Toyota Tundra did not receive until 2020. It's a similar story with Apple CarPlay and Android Auto, both of which were available in the Silverado since 2016 but did not appear in the Tundra until the 2020 model year. These features allow you to wirelessly connect your smartphone to your infotainment center for instant access to your favorite music and a stable internet connection.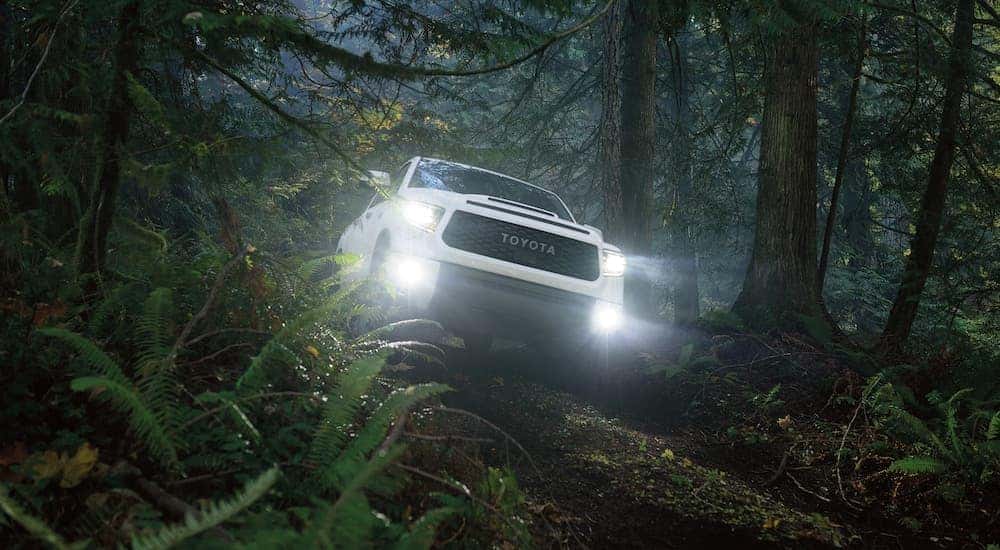 Which One To Get
After putting these two pickup trucks up against one another, the Silverado 1500 is the obvious winner. If you're in the market for a used pickup, and you find yourself deciding between the Silverado 1500 and Tundra, you'll have a much better experience by opting for Chevy. Between these two trucks, Chevy's offering will ultimately give you an experience that more closely resembles that of one of the brand-new vehicles on the market today. However, to find the very best used Chevy trucks, you're going to need to find a reputable Chevy dealer.
Here at Dan Cummins Chevy Buick of Georgetown, we offer a huge inventory of new and used Chevy trucks. No matter what your budget and needs, you will find great used options here at our dealership. We're located at 1470 Cherry Blossom Way in Georgetown, approximately 20 minutes away from downtown Lexington. With the help of our knowledgeable sales representatives and expansive inventory of fan-favorite vehicles, you'll be happily driving off the lot in your pre-owned Chevy truck in no time.