Why The Classic Chevy Trailblazer Is The Best Used SUV Model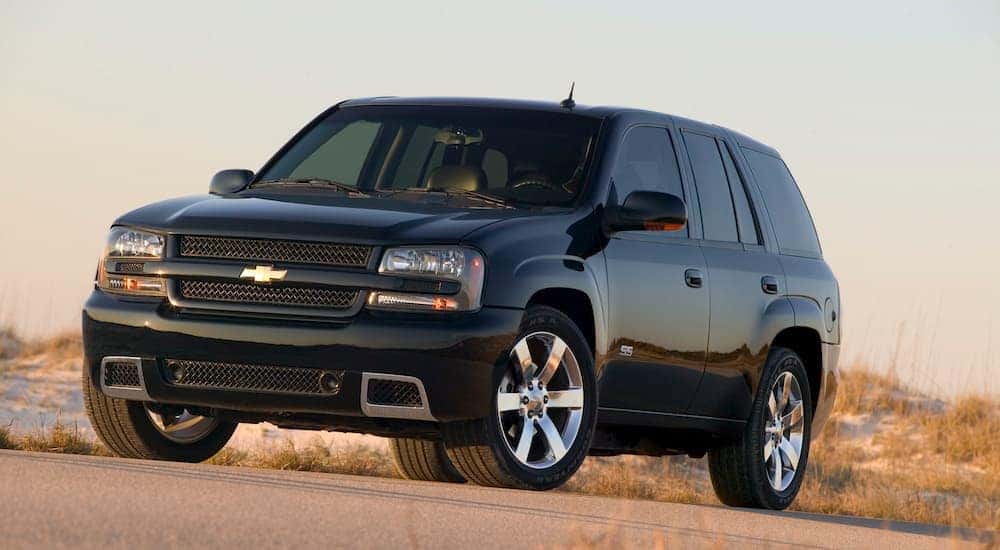 SUVs are ideal for large families, couples, and single adventures alike. There's a lot of diversity in SUVs, between their space, towing capacity, and off-roading perks. These vehicles help keep you safer on the road, and their roof rack rails make it easy to haul kayaks, bicycles, luggage, and more. While this is all grand and good, you may still be scratching your head and asking, "what is the best used SUV to drive?" There are so many options that this decision can get overwhelming. That's why we're here to help you out today. The best affordable used SUV to drive is the used Chevy Trailblazer. Why? A used Chevy Trailblazer will run you under $10,000, it can tow 6,800 pounds, and it seats up to seven passengers. If that sounds like a steal to you, then stick around to learn more about the used Chevy Trailblazer.
The Trailblazer was around from 2002 to 2009. Chevy decided to bring the name back in 2021, but the new Trailblazer is quite different from its original form. Instead of being a rugged midsize model, the new Trailblazer is an efficient compact. But don't let the size difference fool you – the new Trailblazer is even sportier than the old model. Still, the affordable classic Trailblazer is ideal for casual commuters and adventurers alike. This is especially true if you're looking to save money and probably buy out of pocket. Since that's the case, we'll look at the refreshed 2007-2009 models specifically to help you decide which model suits you most. Let's get started!
Interior Perks
Let's start by looking at the classic Trailblazer's interior features. Let's start off with cargo space. The 2007 Trailblazer includes 80.1 cubic feet of cargo space, with 39.6 inches of cargo bed height. Despite its age, it actually includes many convenience features. From OnStar compatibility and remote keyless entry to dual-zone automatic climate control and adjustable pedals, the Trailblazer is more than comfortable and offers some surprisingly modern features. The SS trim even offers leather upholstery on its 8-way power-adjustable seats. This is proof that "used" doesn't have to mean lacking.
While a used Trailblazer won't give you a massive infotainment screen or Apple CarPlay and Android Auto, that doesn't mean you will be bored on your drives. The available Bose sound system is just as good as what you will find in any modern SUV, and the Trailblazer even comes with a satellite radio for on the go entertainment. If you still have a stack of CDs in a box somewhere, then you can take advantage of the Trailblazer's CD player to relax and enjoy some classic tunes.
Particularly look for used models equipped with cool features like the "quiet package," which helps to soundproof the cab. The Trailblazer also offered the "convenience package," which included one-touch power windows and power rear glass. The highest trims came with a leather wrapped steering wheel, a tire pressure monitoring system, two remote keyless entry transmitters, front seat reading lights, and cargo tie-downs. There was even an optional rear DVD entertainment system for passengers. Overall, these Chevy Trailblazers are tech and convenience-packed despite their age. If you're looking to save money while staying comfortable and at ease, then the Trailblazer is a great option.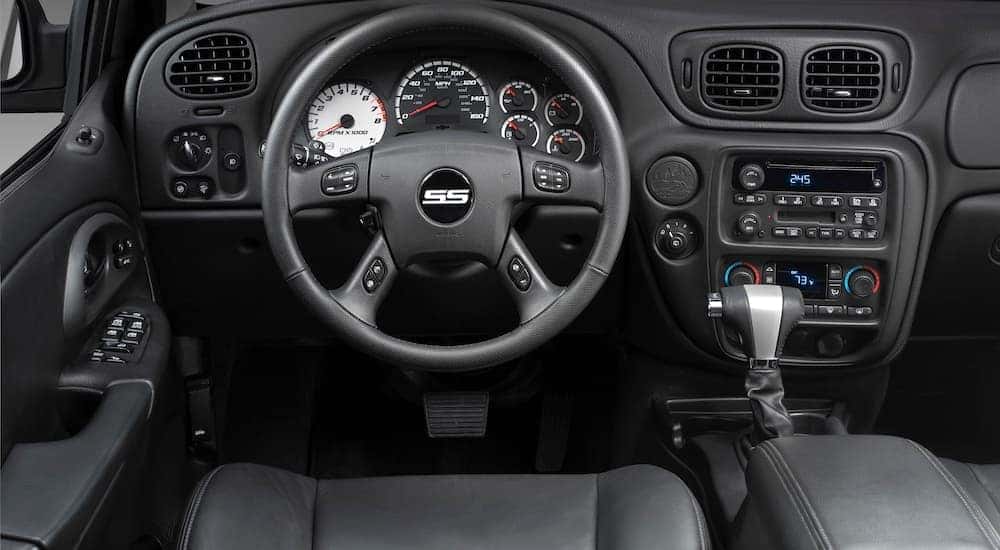 Exterior Accents
Driving is no fun if you can't do it in style. That's why we're here to tell you about the Trailblazer's exterior. New Trailblazers came with 17 to 20-inch wheels and all-season tires. However, used models may come with a variety of wheels or tires, including sportier or larger options. You can also customize this yourself for an even cooler off-roading Trailblazer aesthetic. The Trailblazer also offers roof rails, a luggage roof rack, and black assist steps for additional utility. The rugged looks are complemented by a body-colored grill, body-colored door handles, and deep tinted windows.
Speaking of body colors, you can find used Trailblazers in a dozen different colors, including some less common options like greens and tans as well as the more mainstream whites, blacks, and greys. So, there's plenty of room for variety here. The SS trim is a sportier build that's more "muscular" looking than the regular trims. If you're interested in a fun aesthetic, it's best to go with the SS option. Overall, though, the Trailblazer's slim grill and rounded body style give it a casual appeal, avoiding the stereotypical "boxy" look that many other SUVs carry.
Plenty of Power
Now let's look at how capable the used Trailblazer is. The vehicle is available in either two-wheel drive or four-wheel drive if you're buying a V8 version. If towing isn't important to you, and you don't drive in hazardous road conditions, the two-wheel drive variant can save you money on fuel. However, if you're looking at the Trailblazer because you want power, you'll definitely want to stick with the four-wheel drive versions. All versions of the Trailblazer come with either I6 or V8 engines, and the 6.0L model can produce 390 horses with 400 lb-ft torque. The maximum towing capacity is an impressive 6,800 pounds, which means these SUVs can handle small boats, ATVs, and even campers with ease.
These models also come with something called "StabiliTrak." This is a type of electronic stability control that helps you out when you start to lose grip on the road. If you overcorrect your mistakes, it will kick in to help apply appropriate brake pressure. In addition to this, the Trailblazer is the best SUV to drive because it performs well both on the pavement and on the dirt. If you're looking for something to get you back and forth to work while doubling as a camping vehicle, you'll want to invest in a used Chevy Trailblazer.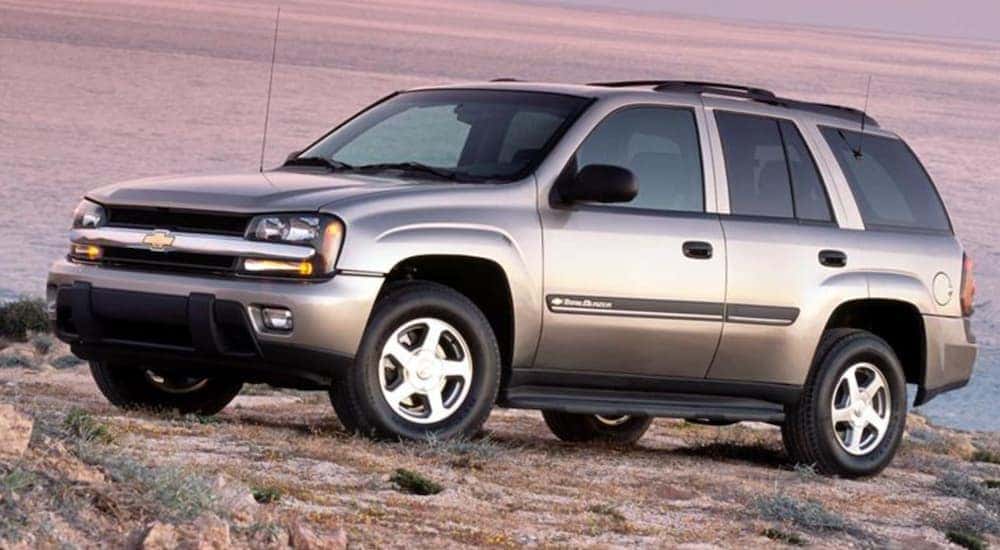 Why Chevy Over Other Models?
Chevy is one of the most trustworthy vehicle brands out there. With over 100 years of experience, Chevy has gone from making the Series C Classic Six model to now producing a "driverless taxi" – an autonomous vehicle that doesn't use pedals or wheels. It's safe to say that Chevy's innovation is impressive beyond words.
Even in the early 2000s, Chevy was ahead of the game. Proof of this lies in how much better Chevy's vehicles are compared to competing brands. For example, the Trailblazer is more affordable than its main competitor, the Ford Explorer. When the 2009 models were first released, the Trailblazer's cost landed at $29,293, while the Explorer's was $31,431. The Chevy variant also provides better fuel mileage than the Ford Explorer does. This is partially due to the Trailblazer weighing less than the Explorer. Chevy's innovative design paired with its powerful and reliable engine options makes the Trailblazer the ideal used SUV to drive.
Buy From Dan Cummins
If you're looking for a new or used SUV and you live in the Lexington area, Dan Cummins Chevy Buick of Georgetown is the dealership for you. We offer both leasing and financing options here, and we can find a deal for any budget or credit score. Additionally, our Certified Pre-Owned vehicles provide you with an opportunity to buy a low-mileage vehicle without spending big bucks on a brand-new option. We also offer options to those who want to pay out of pocket. These vehicles can be found on our "priced under 10K" section of our website. There, you'll find several pre-owned options, including affordable Chevy SUVs like the Trailblazer.
We offer more than just Chevy and Buick vehicles here at Dan Cummins. You can find a wide range of makes and models in our extensive used car inventory. If you have a vehicle that you'd like to trade-in on one of our models, know that it doesn't have to be a Chevy! We accept trade-ins of many models and brands. Stop by or browse our website today to learn more about Dan Cummins Chevy Buick of Georgetown.