Performance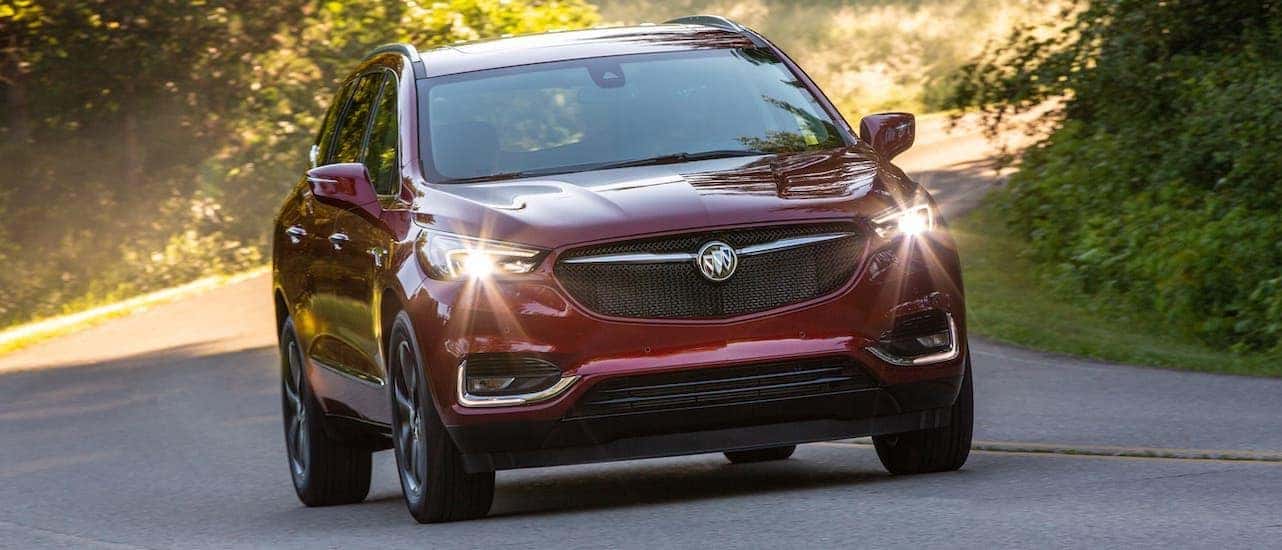 Driving the Enclave
The Buick Enclave features a refined and sophisticated multi-link independent rear suspension that delivers a smooth and engaging ride. Buick engineering rivals that of foreign luxury SUVs, and the Enclave takes corners with ease, features excellent ride quality, and the Active Return Assist feature makes steering easy, as it requires less effort when bringing the steering wheel out of a turn. The overall result of all of this is excellent ride quality and a quiet and refined driving experience. And, even better, the engine under the hood of this smooth ride is surprisingly powerful.
The Enclave's Engine
The 2020 Buick Enclave offers a 3.6-liter V6 with 310 hp and 266 lb-ft of torque. This engine returns 18 MPG in the city and 26 MPG on the highway and is paired with a 9-speed automatic transmission for even more refinement. Plus, to help fuel efficiency at idling, the engine also has a smooth stop/start feature. When properly equipped, the 2020 Buick Enclave can tow up to 5,000 pounds. That is a lot of information to take in all at once, so let's go over what these numbers mean.
The 3.6-liter V6 is a big engine with lots of muscle, meaning it can do almost anything with ease. With the provided 310 hp, you will have plenty of power at your disposal. When equipped with the towing package, the 2020 Buick Enclave can also tow a good amount of weight, with its aforementioned capacity of 5,000 pounds. This means it can tow a small travel trailer or boat, jet skis, or a trailer for work around the house. This added utility is nice to have. Plus, you get all of this with the standard engine. While most SUVs in the class will offer a weaker, underpowered engine as standard, with more powerful engines available as expensive upgrades, the Enclave offers power as standard. This goes to further prove how much built-in value the Enclave offers.
Making the Experience Better
The Buick Enclave also has the option for all-wheel drive, so if you live in a region where there is frequent snow or ice, this is a great model to choose. And another great aspect of the Enclave is the presence of Buick's Quiet Tuning. This is a combination of chassis calibration, body rigidity, active noise cancellation, laminated glass, and lots of sound-deadening materials. What this means for you is an incredibly quiet ride. And when combined with the smooth suspension and adaptive dampers, this makes for excellent ride quality. Overall, with this ride quality and the extraordinary power, the Enclave's performance is practically unbeatable.
Interior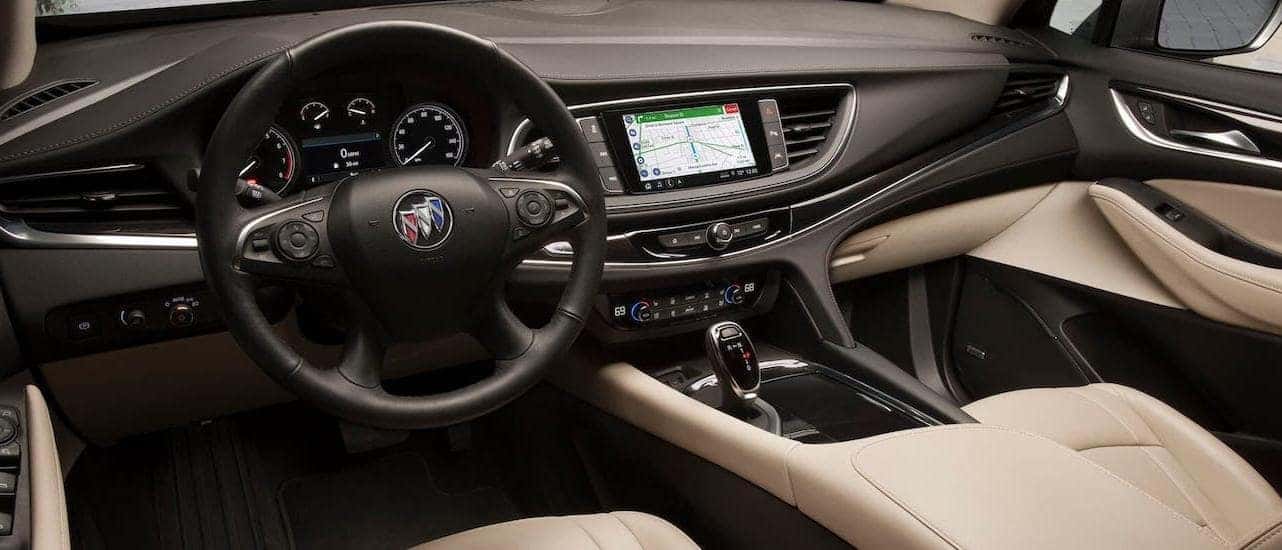 The 2020 Buick Enclave has a spacious, best-in-class, feature-filled interior. It is a large SUV for its class, providing three rows of ample passenger space. Plus, its size also gives the Enclave an abundance of cargo space. With this room for your family and gear, the Enclave is a great family SUV, built for road trips and soccer practice, and with the many interior features inside, the comfort and fun of the vehicle only grows.
Space Inside the Enclave
First and foremost, the legroom in the Enclave's second row is 38.9 inches. This is important to note because it is more than most competitors, and adds to the vehicle's comfort. Additionally, cargo space behind the third seating row is 23.6 cu.ft., which is certainly enough for some sports gear or luggage. And even better, the maximum cargo space is 97.6 cu.ft. when both back rows of seats are folded down. In addition, there is a 3.1 cu.ft. bin under the floor that provides even more space. What is also great about the spacious cabin is that adults can fit comfortably in the third-row seats. While most SUVs in the segment offer third-row seating, this row is often not a practical option for anyone except smaller passengers. But with the Enclave, anyone can sit comfortably in any row.
A Feature-Filled Interior
There are many excellent features inside the Enclave, including chrome and wood accents, soft-touch plastics, and an 8-inch infotainment touchscreen. You'll also find comfortable seats and a large center console with plenty of storage space. The Enclave uses an electronic transmission interface with switches instead of a conventional shift lever, and this frees up a lot more storage and cargo space.
You will also find a lot of technology inside the Enclave. Some of the best offerings include keyless entry/ignition, a programmable power tailgate with gesture control, a universal garage-door opener, tri-zone automatic climate control, and six USB ports. Other options include a Sport Touring package that includes some cosmetic additions along with navigation, a Bose sound system, a heavy-duty cooling that comes with the trailer package, and a rear-seat entertainment system. But no matter the packages or trim you choose, the Enclave is fully stocked with interior features that make it one of the best vehicles on the road.
Safety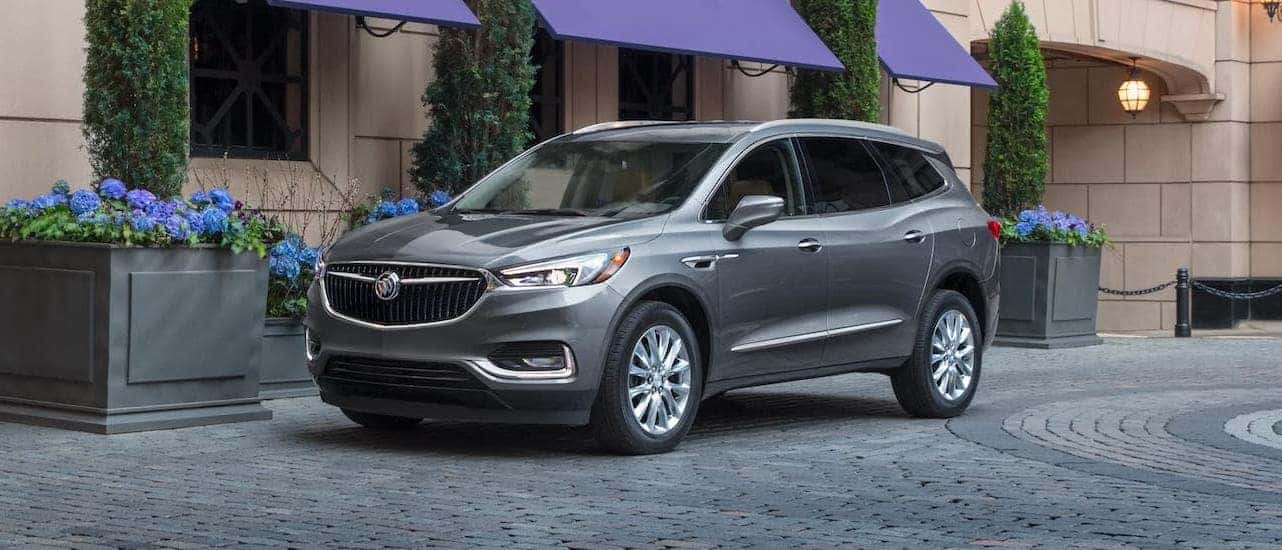 When looking in the midsize SUV segment at vehicles such as the 2020 Buick Enclave, you are likely searching for a family-friendly vehicle. That said, safety is an important consideration when looking in this class. Luckily, the Enclave offers exceptional safety options designed to keep your family safe from potential hazards on the road.
Staying Safe in the Enclave
The Buick Enclave offers rear parking sensors, blind-spot monitoring, as well as blind-spot monitoring with rear cross-traffic alert. It also offers seven airbags. These are all great safety features as they will undoubtedly bring the peace of mind you need when hitting the road with your family. The presence of forward-collision mitigation with automatic emergency braking and pedestrian detection is another excellent addition to the optional features and, along with automatic high beams and a safety alert seat, you are sure to have all of the protection your family needs.
With all of that, it's easy to see why the 2020 Buick Enclave receives praise for its safety. But one of the absolute best safety features that the Enclave offers is a safety alert seat. This alerts the driver of potential hazards by vibrating the driver's seat. It's an intuitive safety feature that will let you know if you are moving into another lane without activating a turn signal. One side of the seat will vibrate according to the direction of the potential hazard. If the potential hazard is in the front, both sides will vibrate, ensuring total safety. This feature is just another example of how Buick has your family's safety in mind. And with all of the features combined, the Encore is undoubtedly one of the safest vehicles on the road.