Performance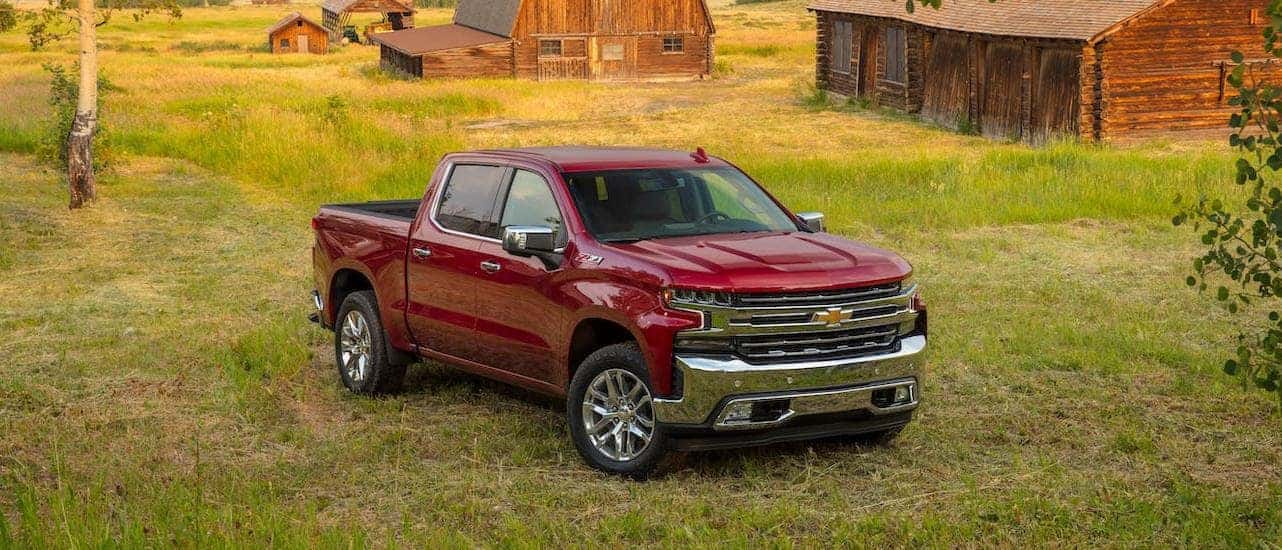 The 2020 Chevy Silverado 1500 has no fewer than five different engine options, giving you the ability to equip your truck with the perfect power plant for your needs. These range from an efficient small turbocharged engine that is excellent for a daily driver, to traditional large displacement V8 engines that provide an unmatched balance of capability, to a high-torque turbo-diesel that is perfect for towing. But no matter which of these engines you choose, you will be getting a solid and reliable design that is ready for years of hard work.
The Silverado 1500 Engines
The base engine in the 2020 Chevy Silverado 1500 is a 4.3L V6 that produces 285 hp and 305 lb-ft of torque. This engine and its six-speed automatic transmission are well proven technology and make for a solid choice all-around choice for most drivers. However, the mid trims of the 2020 Chevy Silverado 1500 come standard with a smaller but more modern 2.7L turbocharged engine. This powerful beast provides 310 hp and 348 lb-ft of torque, giving it a significant edge over the 4.3L V6. It is paired with a more advanced eight-speed automatic transmission that further enhances both its performance and fuel economy.
The top trims of the 2020 Chevy Silverado 1500 come with an even more powerful engine. This is a 5.3L V8 with 355 horsepower and 383 lb-ft of torque. However, it should be noted that there are actually two different 5.3L V8 variants available. The version in the higher trims includes automatic start-stop technology for greater fuel economy and is paired with either an eight-speed or ten-speed automatic transmission. The 5.3L V8 offered as an upgrade in the lower trims does not have start-stop technology and uses the same six-speed automatic transmission as the base 4.3L V6 engine.
Finally, there are the two top engines - a 3.0L turbo diesel and a 6.2L V8. These two power plants are only available as upgrades on the higher trims of the 2020 Chevy Silverado 1500, but they provide unmatched power and capability. While the larger Chevy Silverado HD trucks have always offered a diesel option, a diesel engine is new for the Chevy Silverado 1500 as of the 2019 model year. The 3.0L engine that was chosen produces 277 hp and 460 lb-ft of torque and provides an excellent 27 MPG combined, partially thanks to its ten-speed automatic transmission.
However, the most powerful option is the 6.2L V8 engine. This high-displacement design has the same 460 lb-ft of torque as the 3.0L turbo-diesel but generates a significantly higher 420 hp. And while it may not be anywhere near as efficient at just 17 MPG combined, it gives this truck phenomenal handling as well as best in class towing. This mighty engine is further enhanced thanks to its modern ten-speed automatic transmission, which provides it with smooth power delivery no matter the task. Overall, the Silverado 1500 has unbeatable performance.
Features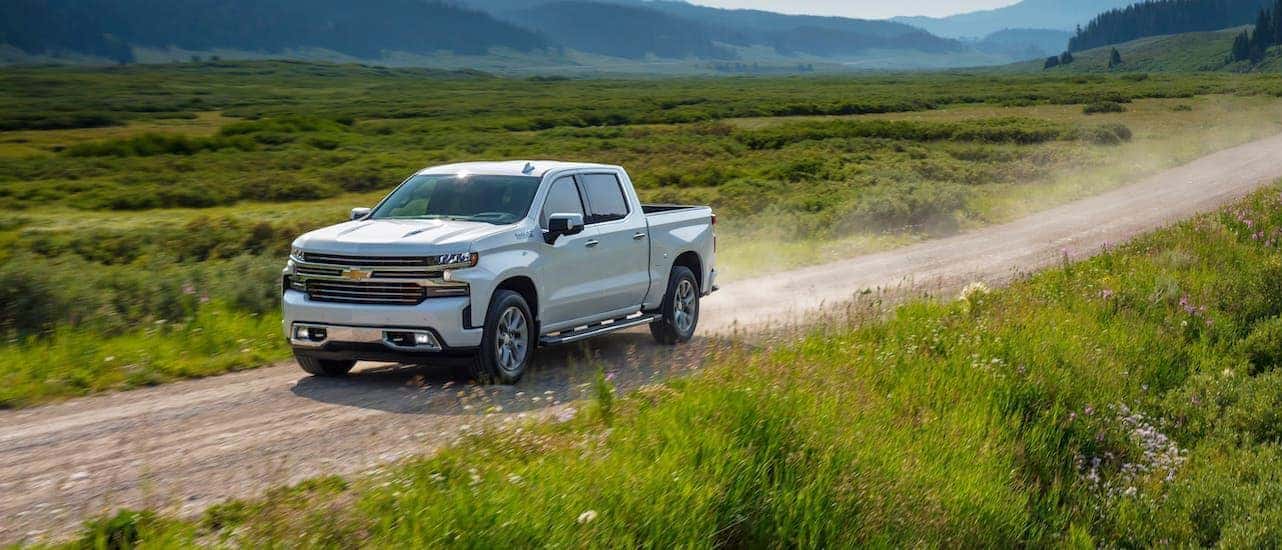 The 2020 Chevy Silverado 1500 is a highly capable and feature-filled vehicle that is designed to make your life easier. Inside and out, every element of this truck has been carefully engineered to provide more capability and luxury than ever before. For instance, the truck offers no fewer than six different drive modes to optimize performance for different environments. Choose between Normal, Sport, Tow/Haul, Off-Road, Terrain, or Snow/Ice and alter everything from transmission shift points to throttle response to have an easier and more efficient driving experience through the task at hand.
More and More Features
Another noteworthy feature of the 2020 Chevy Silverado 1500 is its multi-mode four-wheel drive systems. Both the standard single-speed transfer case and the enhanced two-speed Autotrac transfer case come with a 4WD Auto mode that gives you all the advantages of a part-time all-wheel drive system. When on slippery roads, engage this mode, and four-wheel drive will kick in automatically when the truck senses that more traction is needed. And of course, when you are off-road, you can still lock the vehicle into traditional four-wheel drive with 4HI and 4LO ranges. Additional traction is also available through the optional Eaton automatic locking rear differential, which will keep both rear wheels turning on any terrain.
When it comes to convenience features, the 2020 Chevy Silverado has plenty of options inside and out. The available exterior equipment includes major items such as a remote power-operated tailgate that can be closed with a light touch, motion-activated power-retractable side steps to make accessing the vehicle easier, and a power sunroof to provide you with fresh air and natural light. However, there are also countless smaller touches such as fog lights, tow hooks, and tonneau covers that will allow you to customize your truck for your exact needs straight from the factory. No matter what feature you require from a truck, the odds are that the 2020 Chevy Silverado 1500 has them.
On the inside, there are just as many options as on the outside. Perhaps the largest choice will be choosing between a front bench seat for an extra passenger or individual bucket seats for greater support and comfort. If bucket seats are chosen, then you will also have the option of ten-way power-adjustable seats with power lumbar support for both the driver and the front passenger. And the rear seat passengers are not neglected either with options such as the available heated outboard second-row seats. Dual-zone automatic climate control is of course an option and a heated steering wheel is even available to keep your hands warm in cold weather. The features are truly endless.
Technology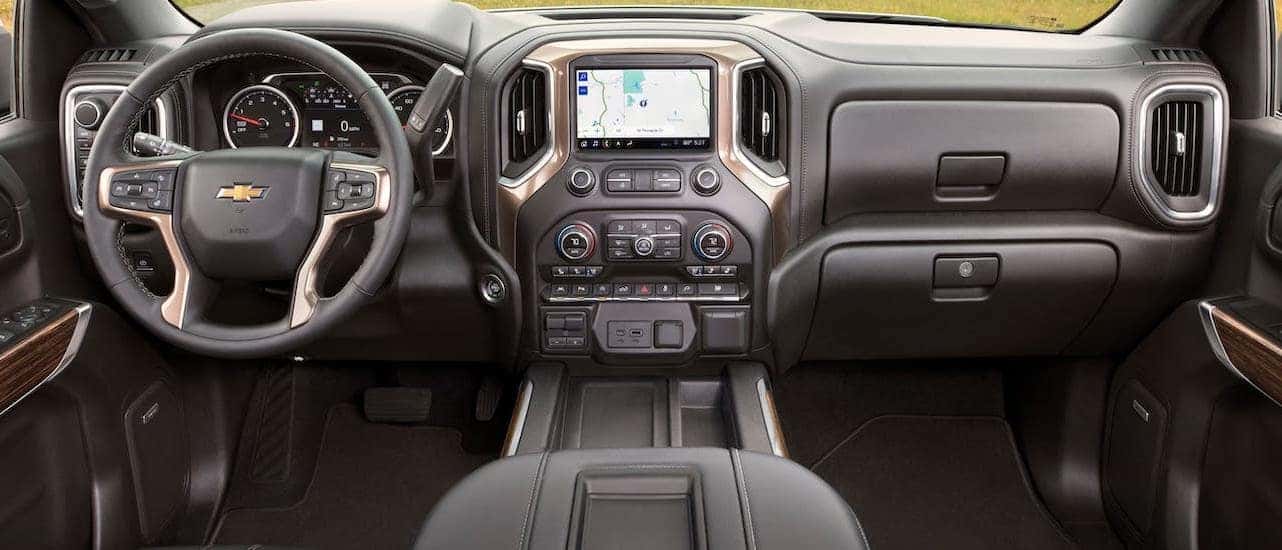 Fun and Useful Technology
When it comes to technology, the 2020 Chevy Silverado 1500 is well-equipped with cutting edge infotainment and driver assistance features. The truck boasts an available 8 inch high definition color touch screen that makes accessing the advanced Chevy Infotainment 3 system a breeze. Seamless smartphone integration is available through both Apple CarPlay and Android Auto, allowing you to take advantage of apps for everything from music streaming to navigation. The upgraded versions of this infotainment system even support in-vehicle apps without connecting a smartphone.
The other built-in features of this infotainment system include SiriusXM satellite radio with countless channels of on the go entertainment, a 4G LTE wireless hotspot for internet connectivity no matter your location, and an available navigation system with voice recognition to help you find your way wherever you might be. The 2020 Chevy Silverado 1500 is also available with a Bose premium sound system that will provide high quality audio to fully enjoy the many forms of entertainment available in this truck.
The centerpiece of the driver assistance technology in the 2020 Chevy Silverado 1500 is the available trailering system. This includes in-vehicle apps and support that make pulling a trailer easier than ever before. And best of all, there is a 360 degree vision system with up to fifteen different camera views that will even allow you to see through your trailer and monitor what is going on inside of it. In addition to these advanced trailering features, the 2020 Chevy Silverado 1500 can be optioned with numerous advanced safety technologies from automatic emergency braking to blind spot warnings that will make your time on the road safer and more convenient than ever before. Overall, the technology in the Silverado 1500 makes for both a fun and safe truck.